It's been over a month since I've participated in a What I Ate Wednesday with Jenn at Peas and Crayons. I've been in a hiding for awhile thanks to some serious morning sickness woes as I'm almost through my first trimester.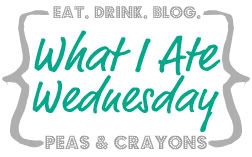 If you're new to my blog, it might be helpful to know that I've been eating Paleo since February of this year. It was an accidental change in how I eat -- and I only made the transition after reading various blogs about the Whole30 and Paleo -- and it was the best accident I've ever made. After struggling for three years with my weight after becoming a mom, eating Paleo helped me get back down to a weight that I could be happy with.
Although I've been pregnant for almost twelve weeks now, I was able to keep with the Paleo diet until the eighth week of pregnancy, and that's when the morning sickness really took over my life, including changing what I could eat. I had no concerns about dropping the Paleo diet -- I know that I will eat whatever I need to eat to ensure I have a healthy pregnancy. It's a small sacrifice to make.
Here are some of the biggest changes and cravings I've had to make in the last month:
Eating bread, crackers, and other simple carbs

A serious craving for soup: chicken tortilla, minestrone, chili, chicken noodle, pho, ramen...soups of any kind

Potatoes. Potatoes are starchy and therefore off limits on the paleo diet, but I've been indulging in baked potatoes, french fries, potato salad.

Sandwiches. Especially anything with roasted chicken or a grilled chicken breast.

Eating every 2-3 hours. When I was on the Paleo diet, thanks to the protein in my meals, I only ate breakfast, lunch, and dinner, and occasionally, an afternoon snack. As my nausea got worse, I found that I had to eat more often to avoid getting nauseous, including eating in the middle of the night.
Clockwise from top lefthand corner: cucumber, tomato, avocado salad with miso dressing; beef stew with golden beets and tortellini pasta salad; chocolate mousse and raspberries with orange creme anglaise; salad with albondigas soup; fish taco and korean taco; grilled chicken arugula pesto sandwich with potato salad; rib eye with corn and french fries
Would you give you up a special diet for a period of your life if your health (and/or someone else's health) depended on it?