Just like that, it's Wednesday! This summer is flying by. It has been over a month since I last got into the What I Ate Wednesday (aka WIAW) fun. It's time to join Jenn from Peas and Crayons and share my latest eats. If you've never participated in WIAW and you love food, you should check it out. It's the ultimate eating voyeuristic voyage. I think everyone that participates does so because they love food and they love to see what other people are eating! I know I do.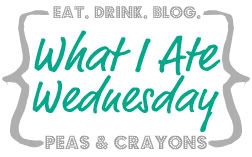 My last WIAW was all about first trimester eats. Fortunately, my morning sickness has completely disappeared (knock on wood) just in time for last week's 4th of July trip to Chapel Hill, North Carolina. It was a huge family gathering with lots of home cooked meals, but we also made a few trips to try out some exciting culinary fare around the Chapel Hill - Raleigh - Durham triangle. Here are a few highlights from our week.
Tuesday night: Lantern
In 2008, Bon Appetit named the Durham-Chapel Hill area America's Foodiest Small Town and I can see why. Whenever I read food magazines, it seems they are highlighting yet another up and coming restaurant in the Durham-Chapel Hill area. So my husband and I knew we had to take advantage of visiting family and find a date night to go out by ourselves while the grandparents watched our son. After much research (and discovery that some restaurants were closed for the holiday week), we decided on an unusual choice (for us): fine dining at an Asian restaurant. Here's what I ate at Lantern. I didn't get a chance to snap shots of my husband's dishes.
Green bean salad with poached egg. Seriously delicious flavors.
Deep fried North Carolina Grouper with a sauce I can't remember... but it too was delicious.
Wednesday morning: Monuts Donuts
Thank goodness I am not on my Paleo diet right now (thanks to being pregnant). We had the most amazing donuts at a place called Monuts Donuts in Durham on Wednesday morning. We devised a plan of attack: three adults, one toddler, four donuts. We shared the following four (from top, going clockwise): dark chocolate sea salt, apple cider, peaches and cream, and a regular glazed donut. The best one? It's hard to say. They were all SO delicious. Thank goodness we had eaten breakfast before going to Monuts Donuts, or I might have needed a second round of donuts.
Friday Noon: Carrington 4th of July Festival
One of our family members plays the french horn and performed with her band at the Carrington 4th of July festival, so a bunch of us went to watch. Afterwards, we checked out the festival which included a watermelon seed spitting contest (not kidding), an infant crawl, and many other fun activities. The Italian Ice vendor consistently had a line that was longer than any other, so we had to try their Italian ices. We sampled the cherry-vanilla, and the lemonade-blueberry ices. Delicious!
The front half of the line for the Italian Ices!
Hey - hands off my vanilla-cherry Italian ice!
Friday evening: Barbecue at Home!
While some of us were at the Carrington festival, others were slaving over a hot stove and a hot grill, back at home. My husband's family is Greek and they love their food. Whenever we go to visit, we know there will be lots of great food. This 4th of July feast was no exception.
Pork ribs on a hot grill!
The spread...
Lemon mousse cups with berries for dessert.
Do your family gatherings involve food? If so, who does the cooking? And what kinds of foods do you eat?