Happy Wednesday, y'all! I love Wednesdays, when I get to check out what everyone else has been eating, thanks to Jenn from
Peas and Crayons
. If you're not familiar with What I Ate Wednesdays, check out the deets
here
.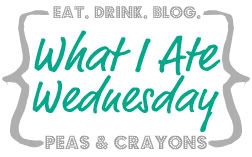 The plain vanilla version of WIAW is to share what you ate from sunrise to sunset, on a given day, but I'm going to stray from the usual and share eats from our "Tour de Cuisine" around Colorado the past week or so. We made a real effort to try some new restaurants, and found some winners in Boulder and downtown Denver. We were stuck in a rut for awhile, eating at the same places over and over again...so it was nice to try some new places.
Let's start with bar food. After going Paleo back in March, I haven't had a whole lot of white potatoes, but again, with the pregnancy, I've allowed myself some indulgences. Now that the first trimester is over, I'm backing off the pasta and bread, but I had to have a couple of these amazing french fries, served with homemade ketchup.
More bar food! Last Friday, hubby got off work early, so we headed out to a new neighborhood (Pearl Street) and found a restaurant with a comfy-looking patio and ordered fries (notice a pattern?), calamari, and a shareable salad with grilled peaches. I couldn't have any alcohol, but hubby ordered a Moscow Mule that he declared deeeelicious.
I broke down on my back-to-low-carb resolution and ordered this grilled veggie panini. It was pretty good... I'm inspired to try and a grilled veggie sandwich at home sometime soon.
And...the winner of the week? A delicious chopped chicken salad. The fresh corn was divine in this simple entree salad of romaine, corn, radish, tomatoes, avocado, radish, and a touch of scallions. Surprisingly, I've been hard pressed to find good salads around Denver.
Do you have a favorite place to eat in your hometown? What do you eat when you really want to splurge when dining out?