I am super excited about sharing my eats this Wednesday because this week, I am sharing food all of which I made myself. That's right, I am finally back to coking full time!
I'm joining Jenn from Peas and Crayons for her lovely Wednesday link up party where everyone shares their food...and I often get inspired to make new things. So come and check it out!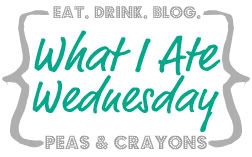 One of the big changes this week is I am shifting further to eating more Paleo again. After a huge shift away from Paleo (thanks to my pregnancy), there is now less bread and pasta in my diet and more veggies and protein. I am not 100% Paleo, but much closer to the 80/20 approach I was happy with before I became pregnant. So here is what I ate Wednesday Tuesday:
Breakfast: the morning always starts with making some really good coffee. I like this brand called Dazbog, which seems to only be available in Colorado. I go back and forth with how seriously I take my coffee, and right now I am back to the extreme of buying whole beans weekly (just enough for the week) and grinding them just before I brew them for the freshest flavor possible. I'm also very particular about how the coffee beans are roasted, and Dazbog is the closest I can get to my old love, Peet's coffee.
Once the coffee pot was going, I rinsed off some strawberries, which I cut up and snacked on while I made...
...baked eggs. When I first discovered baked eggs, I couldn't believe how easy they are to make! I've tried all kinds of variations, and at the end of this post, I've shared the recipe to my current favorite.
Lunch was leftovers from yesterday's dinner: oven-baked chicken, coleslaw, and caprese salad. I wasn't thrilled with the oven-baked chicken recipe, so I'll be on the hunt for other recipes to try. The caprese salad, however, was delicious. It's so easy to make, I almost never order it when I go out to restaurants.
Afternoon snack: I had some apple slices with almond butter, but forgot to take a photo.
Dinner: I made this lovely zucchini tomato gratin. Served alongside a nice juicy ribeye, we dug in so quickly, I almost didn't take a photo. Thankfully, I remembered to take just one before we devoured the gratin and the steak.
Last night's dinner marks three nights in a row that I've cooked, and the hubby has said there is almost nothing better than coming home to a wonderful dinner at the end of the day. Summer is winding down, and there is still so much summer cooking to be done: grilling, summer veggies, salads. I've been trolling all my favorite cooking websites (Epicurious.com and FineCooking.com are two of them) and poking through Pinterest as well.
Do you have any favorite cooking websites or cookbooks that you go to for cooking inspiration?
Simple Baked Eggs
Ingredients
Unsalted butter (for ramekins)
2 hot house / vine ripe tomatoes, diced
4 Tbsp chopped fresh basil
2 Tbsp chopped flat leaf parsley
1/4 tsp freshly ground pepper
2 tsp cheese (Gruyere, Parmigiano-Reggiano, or whatever you have)
Instructions
1. Preheat oven to 350F. Butter the ramekins or cocottes.
2. In a bowl, combine tomatoes, basil, and parsley, 1/4 tsp salt, and 1/8 tsp pepper. Divide the mixture in half and place into the bottoms of the two ramekins.
3. Depending on the size of your ramekin/cocotte, crack 1 or 2 eggs into each ramekin.
4. Season each ramekin with 1/8 tsp salt and a pinch of pepper
5. Drizzle each egg with 1 Tbsp of cream
6. Arrange the ramekins on a rimmed baking sheet, and bake in oven for 15-20 minutes, until the egg whites are opaque and the yolks are to your liking (my husband likes his yolks a little more cooked than I do).
7. Remove from oven, sprinkle with cheese, and enjoy!