It's the last week of summer and I've been trying to make the most of summer veggies. One of the dishes we've really been enjoying is vegetable gratins, and we've been experimenting with all kinds of veggies in our gratin. Recipe available at the end of this post...
But first, a quick peek at a day of eating. After all, it's time to link up with Jenn at Peas and Crayons for What I Ate Wednesday!!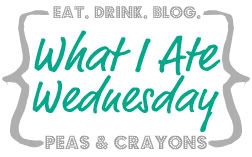 We're days away from going on vacation so my eating has slipped a bit into vacation mode... I started the morning off with some banana pecan muffins for
breakfast
(recipe compliments of Jenn from Peas & Crayons!!).
Lunch
was a chicken salad avocado sandwich (instead of using mayonnaise in the chicken salad, use mashed avocado!!) with potato chips and some mini chocolate chip cookies.
Afternoon snack
was a small plate of loaded nachos (everything homemade except the tortilla chips)! And at the end of the day, I really gave in because
dinner
was a delicious hamburger, fries, and a chocolate milkshake.
And, no, I didn't feel guilty at all. Really. I don't mind indulging now and again.
Now, onto some healthy eats...
Printable recipe
Serves: 6-8 as a side dish
Prep/assembly time: 30-40 minutes
Baking time: 60 minutes
Special equipment: 2 qt gratin dish or 8"x10" baking dish
Ingredients
4 Tbsp olive oil, divided

2 medium yellow onions, thinly sliced

1 red, yellow, or orange bell pepper, stem removed, cut into strips

2 cloves garlic, minced

3/4 lb zucchini (same size as the yellow squash), sliced into 1/4" thick rounds

3/4 lb yellow squash (same size as the zucchini), sliced into 1/4" thick rounds

1-1/2 lb tomatoes (I prefer hothouse/on-the-vine tomatoes), cored, and cut into 1/4" thick rounds

1/4 cup chopped basil

1-1.5 cup grated parmigiano-reggiano, depending on how cheesy you want your gratin
Instructions
Bonus step: zucchini and yellow squash hold a lot of water, which can make your gratin extra soggy, so I recommend this additional step. If you're pressed for time, you can skip this step, but if possible, perform this step before the rest of the recipe. Toss the sliced zucchini and yellow squash rounds with 1 Tbsp kosher salt, then spread slices out on paper towels to absorb the additional water.
Cook onions & bell pepper: while the zucchini and yellow squash slices are releasing their extra water, slice the onions and red bell pepper. Heat the 2 Tbsp olive oil in a 12" skillet over medium heat, then add the onions and red bell pepper. Add 2 tsp salt and 1/2 tsp ground pepper. Cook over medium heat, stirring for about 20 minutes, until veggies are soft. If necessary, lower heat if onions are browning too quickly. Add garlic, and saute an additional minute. Turn off heat.
Assemble the gratin: Heat the oven to 375F. Lightly grease/butter your gratin dish or baking dish. Spread your onion-bell pepper-garlic mixture to the bottom of your baking dish.
Pat dry the zucchini and yellow squash slices before placing in a bowl with remaining 2 Tbsp olive oil, 2 tsp salt and 1 tsp ground pepper. Toss vegetables to coat. Once coated, artfully alternate zucchini and yellow squash slices to cover the onion-bell pepper-garlic mixture. (In my photo below, I didn't have yellow squash, so I only used zucchini).
Layer tomatoes on top of the zucchini and squash slices (I didn't have enough tomato slices, so I didn't have them overlap one another). Sprinkle chopped basil over tomato slices. Drizzle one more time with additional olive oil and a healthy sprinkle of salt. (Again, in the photo below, I didn't have basil, but substituted parsley instead).
Bake gratin: bake in oven for 30-35 minutes until vegetables are soft, then sprinkle with parmigiano-reggiano, and bake for another 10-15 minutes until cheese is bubbly and melted.
Serve while warm. Also delicious at room temperature.
Are there any dishes you are trying to savor in these last weeks of summer?