One of the best things about traveling (in my humble opinion) is getting to eat the local food. So, the further away from home you go, the higher the probability that the food will taste different (or just plain be different). As you may know I love food, and traveling is just another excuse to eat some delicious (and different) food!
So come along with me for a peek at what I've been eating during our stay here in the Outer Banks (OBX), NC. We've been here since Saturday, and we still have a few more days at the beach until we drive to Washington, D.C. for more sightseeing and food! For today's food celebration, I'm linking up with Jenn from Peas and Crayons for…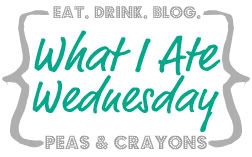 Best thing I've been enjoying while in OBX: tomatoes. I've been eating a lot of tomatoes… with my eggs for breakfast, in caprese salad, in pico de gallo, in salads. I don't know if I'm crazy, but the tomatoes taste better here. Should I be second guessing tomatoes in Colorado?
Food that makes me feel the best: salads. We had salad with salmon one night. And I had a delicious fried chicken salad for lunch another day. At almost every meal we've made at our beach house, we've made sure to serve salad on the side.
Best indulgence: I made this tres leches cake on day #2 and we've slowly been eating it. It is soooo good. Not paleo at all but absolutely worth it.
Starting with top row, L to R: eggs baked in a tomato; iced mocha with whipped cream; salmon salad; scrambled eggs with tomato and cheese; eggplant parmesan, chicken cutlet, and side salad; caprese salad; Duck Deli BBQ Restaurant; Treehouse mocha (best one of the week!)
Did you indulge in anything delicious over the recent Labor Day weekend?